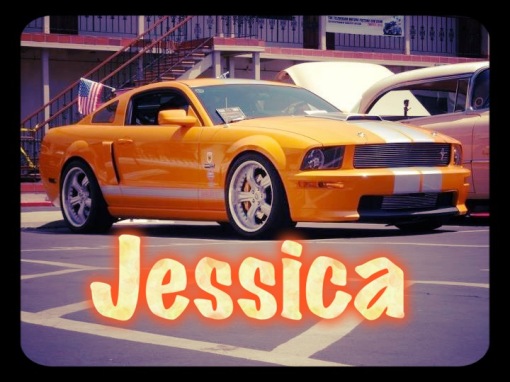 This is my car. There are many like it, but this one is mine.
I love my car. It is so choice. If you have the means, I highly recommend picking one up.
SHELBY – AN AMERICAN CLASSIC
Shelby has been around and teamed up with Ford for 50 years now. Oh sure, there were some dark times when Ford and Shelby parted ways. But great things happened in both Universes (Ford+Shelby and Ford-Shelby)
Great things…like, the Shelby Series 1. A modern Cobra with an Oldsmobile engine.  Awesome cars. Carroll helped develop the Viper for Chrysler as well. If you want a full history on Shelby cars, you can gooooogle it. This post is about MY car – My Sweet Baby Jessica.
HERTZ RENT-A-SHELBY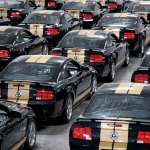 Ford and Shelby got back together in 2005 after a long break. Ford was finally making a Mustang that was wildly popular, appealing to the aging baby boomers and their nostalgia for the '60s Mustangs.
Nostalgia being what it is, gave birth to an idea. Hertz Rent-A-Racers had a mystique and legend of their own. Hertz was still around. So why not try to recreate the magic that was the 1966 Ford Mustang Shelby GT350H?
Shelby GT-H Rent-A-Racers returned in 2006. Those coupes were made for the rental fleets, and the vast majority were automatic transmissions. A few manuals were made for the Hertz executives. Ford and Shelby produced:
2006 – 500 Shelby GT-H Coupes
2007 – 500 Shelby GT-H Convertibles
SHELBY GT
Shelby decided to offer the Shelby GTs as a pre-title vehicle for the general public. Brand new Mustangs were shipped to Shelby American in Las Vegas, Nevada, then were transformed into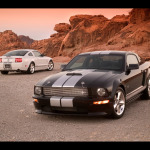 Shelby GTs before they were delivered to Ford dealerships for sale. The package consisted of:
Shelby Stripes – over the top LeMans and side stripes with SHELBY GT designation
Shelby Badge – interior dash plaque with serial numbers from the Shelby Registry
Ford Racing Performance Exhaust – Borla Attak
Ford Racing Performance Suspension Package – FRPP
Cold Air Intake
Performance Engine Tune – good for around 320 hp
Price – $9,990, on top of the Mustang GT price.
It was essentially the same modifications that Carroll Shelby did to the 1965 Mustang Fastbacks to turn them into GT350s.
For the 2007 model year, Ford sent Shelby around 5000+ new Mustangs to be transformed into Shelby GTs. The final production numbers are around 5,651, including the prototypes. Roughly half were black and half were white.
2007
3,385 Black
2,266 White
Following the tradition of the 1965 GT350s, most of the Shelby GTs were manual transmissions (about 500 of each with automatics), all were coupes.
SHELBY GT-C
Jessica is a 2008 Ford Mustang Shelby GT-C.
The "C" stands for California. All SGT-Cs were sold first on California Ford dealership lots.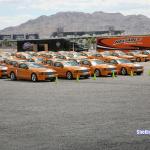 My Jessica has the Premium Package and HID Headlights. All bright work and interior trims are the nicest they offered that year.
As far as Shelbys go, this is a rare car.
2008
215 Grabber Orange
1,899 Vista Blue
But there are Shelbys more rare than a Grabber Orange SGT-C.
SHELBY GT-BARRETT-JACKSON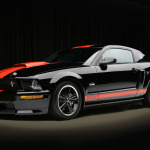 In 2008, Shelby American also made a Barrett-Jackson Edition – Black with Red stripes, all sold exclusively in Arizona.
2008
100 Black with Red Stripes
BABY SHELBY
Some call the Shelby GTs the "Baby Shelby", since it came with "only" 320 hp. But they are True Shelbys in every sense of the term. In fact, they are MORE Shelby than the GT500. Ford produced the SVT GT500s at the Ford factory under Shelby license by the thousands.
All Shelby GTs went through the Shelby factory. All 219 Grabber Orange SGT-Cs were autographed by Carroll Shelby himself before being shipped off to dealerships.
I chose this car because of the colors, the stance, the sound, the wheels. I love driving this car. I consider it a piece of artwork that I get to drive around in. People stare. It is THE coolest car most people are going to see all day.
This really is my dream car. Hard work and dreaming realistically is what made this happen. But lately I have started dreaming unrealistically, like adding many new Mustangs to my stable alongside Jessica…..yeah…..
The opportunities that have come my way because of this car, my Shelby, are so many, I lose track.
Invitation to join the Television Motion Picture Car Club
Friends that I have met because of Jessica – Randy King, Stephen Russo, Ken Latka, Rick Yates, Dennis Washburn, Reno Rizo, Tom Raber, and the list goes on…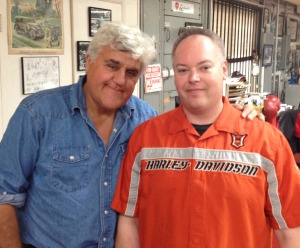 I even got a private tour of Jay Leno's car collection because of Jessica.
I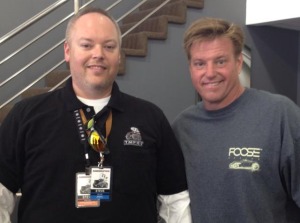 met Chip Foose – at his shop with TMPCC – took photos for the club AND Chip "Foosed" my car – signed the dash and drew an awesome sketch of Jessica for me. Then as he stepped back, he said "Cool car".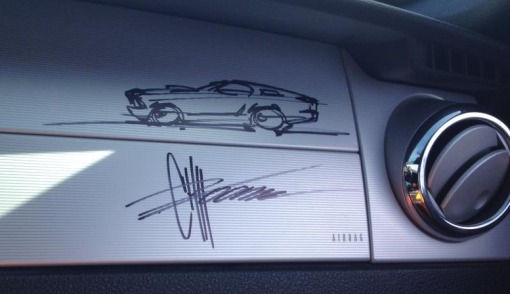 Ahhhhh – that was a Good Day.